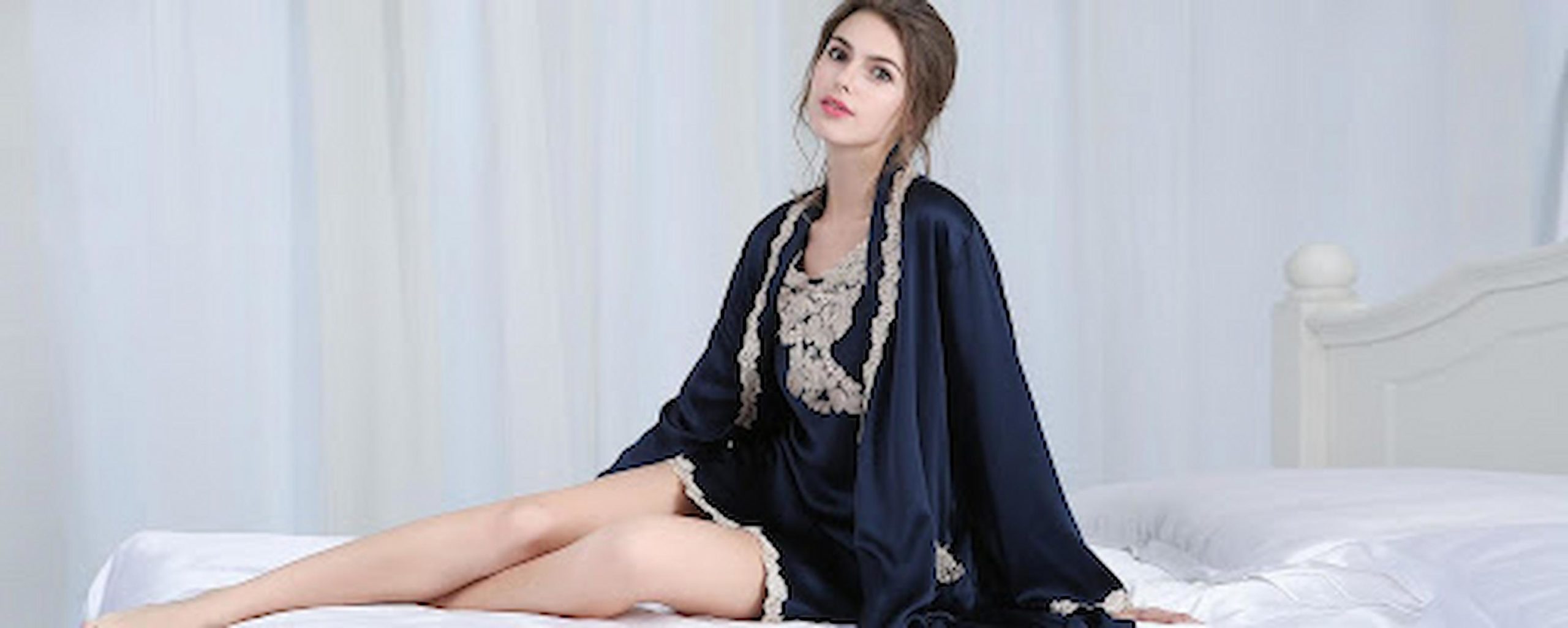 They are those present in nature, they can be of animal origin such as silk or wool, or of vegetable origin such as cotton and linen.
While linen and wool are rarely used, cotton and silk are the main fabrics of silk nightwear.
Cotton is a breathable fabric, which does not irritate the skin, is not adherent but is very resistant, it can be used alone (jersey) or combined with synthetic fibers such as elastam to improve its elasticity
Silk is the finest of all natural fibers. Soft, shiny and fresh, it manages to give the underwear that characteristic that makes it unique. Satin, jacquard, taffeta, crepe de chine, are the most used silk fabrics.
Artificial Fabrics
They are composed of textile fibers of natural origin, such as cellulose and proteins, but modified by chemical processes. Among the best known we can mention viscose, modal and acetate.
Synthetic Fabrics
Synthetic fabrics are generally petroleum derivatives.
The main synthetic fibers are elastane which guarantees elasticity to the fabrics and polyamide (nylon, tactel) which gives them resistance and lightness.
The union of elastane and polyamide constitutes the microfibres, currently the most used materials in the manufacture of underwear.
In fact, microfibers, in addition to having all the advantages of synthetic fabrics, are able to make the garment particularly soft and breathable.
Accessories
Underwear accessories can be of 2 types: structural or decorative.
The first are represented by the hooks, for the fastening of bras and bodysuits, and by the underwire, used in the cups of the bras for their support.
The latter are bows and embroidery applications that enrich and complete the underwear.
The Embroidery
It is a technique that consists in decorating a base stretched on a frame (tulle, opaque or transparent mesh) with needles that reproduce a design. The value, and consequently the cost, of an embroidery varies according to:
of the base chosen for the embroidery
the relationship between the embroideries (the wider the space between the designs, the more expensive it is)
the number of colors used
The Lace
It is a knitted fabric on which various opaque designs appear.
– Rachel lace; the basic lace
– Jacquard lace; lace without any relief
– Textronic lace; embossed lace with background effects.
The Guipure
It is a handmade embroidery with many stitches, on the whole surface of a base which is then chemically dissolved (operation called déchimicage). Therefore only the embroidery remains; the fabric disappears. The result is visually rich, the production costs are considerably high.