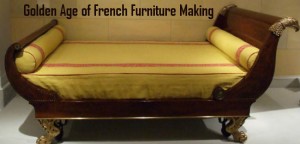 Regarded by many as the Golden Age of French furniture making, Louis XV's reign as the King of France during the mid-eighteenth century was a time of unbridled peace and prosperity. Moreover, this period saw the emergence of the Siecle des Lumieres (Age of Enlightenment), which encouraged citizens in all walks of life to indulge in intellectual discussion and reasoned debate. As a result of this, women throughout France developed a more powerful voice and their influence – both in court and in furniture design – became very significant.
Regal Tastes
Although public reception rooms in France were still very grand at this time, family apartments were less formal and strong colours were replaced with the pastel shades favoured by Madame de Pompadour (Louis XV's mistress).
 Louis XV himself sought out inviting chairs and furniture arrangements which he believed would be conducive to conversation. To this end, the King's menuisier (chairmaker), Jean-Baptiste Tilliard, made a low, curved armchair with an exposed wood frame for his master which was significantly less regal looking than earlier chairs. A basket of flowers was carved on the seat rail, and shells and scrolls on the back, to show that the chair was meant to be moved about rather than  left stuck next to the wall.
 Not surprisingly, Parisian chair makers adopted Tilliards chair designs and adapted them into their own offerings. These chairs were sometimes gilded or painted while upholstered arms were moved back from the length of the seat to avoid crushing fashionable crinolines. Rich damasks and velvets were favoured for upholstery, along with Gobelin, Aubusson and Beauvais tapestry. Cane chairs with loose seat cushions were also very popular as well.
 The Height of the Golden Age
By the second quarter of the century, many Parisian homes had crystal chandeliers and marble mantels with large mirror panels or painted over-mantels called trumeaus. Wooden floors were arranged in marquetry or parquet patterns and laid with Aubusson or Savonnerie rugs. New pieces to emerge during this time included the bergere (easy chair), fauteuil (armchair), secretaire-a-abattant (fall-front writing desk), table-a-ecrire (writing table), and bureau-a-cylindre (cylinder-top desk). The most notable furniture designers of this period were Charles Cressent, Bernard Vanrisamburgh, Jean-Baptiste Tilliard and Nicolas Heurtaut, all of whom produced innovative and luxury furniture of the very highest order.
 Neo-Classicism & Inevitable Change
As the end of the Louis XV period drew to a close, it was evident that French-made furniture had become too decadent. There were just too many curves, too little symmetry and decoration was more often than not far too over-the-top – change was inevitable.
 This change came in the form of neo-classicism or the classical revival which itself was largely inspired by the discovery of Pompeii in 1748. This period marked the return of straight lines, symmetry, leaf or bead mouldings, and classical ornamentation. Indeed, straight lines replaced flowing scrolls, horizontal bands took the place of ornate mouldings, and rectangular spaces with classic emblems replaced cupid and rose-garlanded panels.