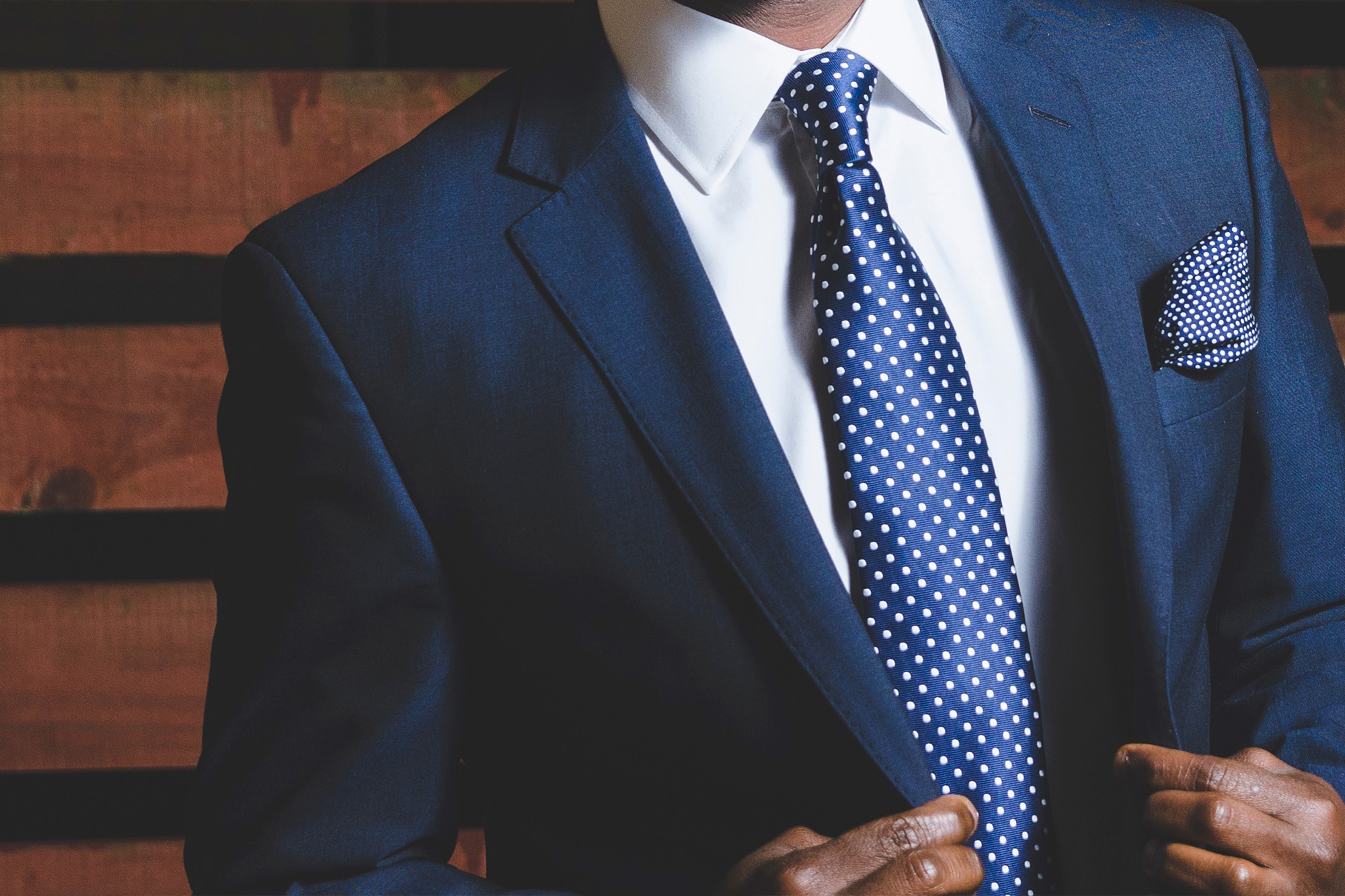 The suit must be an ally: it must give allure, elegance and be the reflection of your personality.  Be careful, however, to choose a men's suit that matches your body type.
Less than 1.70 m and thin? Respect the proportions
Bet on slim mens suits cut with fitted pants that lengthen your figure and a jacket that should not go below your buttocks.
Avoid mismatched sets, cuts that are too wide or on the contrary skinny, high-waisted pants that will give an impression of too small a bust and a jacket that is too long which will visually reduce your legs.
Less than 1.70 m and slightly stout? To divert attention
Your goal will be to draw the eye to your shoulders and face. There's nothing like a straight cut with a 2-button jacket, very lightly pressed on your waist to stay trendy. 
The double-breasted jacket can also be a good solution: it draws attention to the upper torso and therefore, your face. 
Tall and thin? Don't look taller
With such morphology, a wide choice is available to you.  Just be careful not to wear your pants too low. On the jacket side, the Neapolitan shoulders (without padding) are perfect. Padding (shoulder pads) are also allowed, provided they are not overly padded.
Whether you opt for a 2-button or 3-button jacket, the first should be pulled down to ventilate your bust and give it volume. Patterns are your allies: they can break a slender physique, just like mismatched suits. So: dare. 
Rather athletic? Focus on verticality
Stop padding: your already square shoulders won't need it.  Prefer wide lapels on a relatively long 2-button jacket: placed high on the chest, they will reduce a too imposing build.
Side eccentricity, very little for you: limit the patterns and accessories, your silhouette does not need to be overloaded.
Big size? Focus on neither too much nor too little
The perfect equation?
A straight jacket, without padding, single slit (or even no slit) and relatively loose pants with bottoms narrower than the knees.
Also consider using suspenders rather than a belt which will tend to cut your figure. The suspenders, on the contrary, will bring lightness and will make your pants fall perfectly. 
The extra tip just for you: choose a jacket whose shoulders are wider than yours so as to give your upper body that famous V-size. 
Whether you are tall or small, slim or large, when choosing your suit, remember that:
The sides of your jacket should not fall lower than the palms of your hands.

The sleeve of your shirt should slightly protrude that of your jacket.
Our last tip?
In addition to choosing the right fit for a men's suit, it is above all necessary to wear it with pride and pleasure.