If you or a friend or member of your family happens to be expecting a baby, a great way of celebrating this miracle of life is to throw a baby shower. A baby shower is a party where friends and family members of soon to be mothers get together to celebrate the fact that there will soon be a new addition to their family in the form of a beautiful little baby girl or boy. One of the main ideas behind a baby shower is to present the soon-to-be mother with practical gift ideas, often designed to help make her job as a mother that little bit easier. Baby shower gift ideas need not be expensive or highly complicated, but what they should be is practical and they should show the expecting parent just how much you care about her. Whether you're throwing a baby shower or attending a baby shower, getting the gift right is absolutely crucial. If you're stuck for ideas then why not take a look at these three suggestions to help make your life that little bit easier.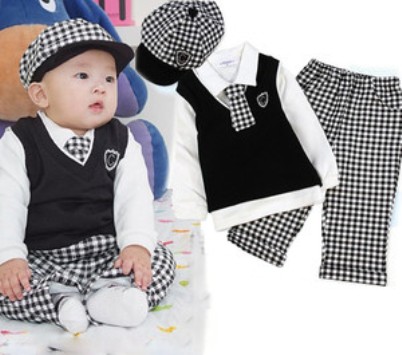 A hamper full of baby goodies –Not sure which gift to purchase? Why not purchase a large hamper or box, fill it with coloured tissue shavings and load it up with several practical baby related goodies? The great thing about creating a hamper is that you can include a little variety so you could include a pack of nappies, a baby bottle sterilising kit, a changing mat, clothing, and perhaps a gift voucher to be used at stores specialising in babies. You can make the hamper as big or as small as you like and if all of that sounds a little too expensive for one person alone, why not do it in groups, with each person adding their own unique gift to the hamper.
Baby boy clothes –If you know for a fact that the expecting parents will soon be welcoming a newborn baby boy into the world, why not give baby boy clothes as your baby shower gift? Babies are messy and for that reason the expecting parents will need as many different sets of clothing as possible. Thinking and planning ahead, why not purchase baby boy clothes in different sizes for different ages, so the clothes will keep as the baby grows older and larger. If a baby girl is expected, do exactly the same, only swapping the baby boy clothes for baby girl's clothes.
Treats for the parents –Becoming parents, either again or for the very first time is no easy feat and for that reason it's important that the parents get to treat themselves now and then. For that reason, why not purchase treats for the parents? You could go with spa treatments and vouchers, restaurant vouchers, or even just simply cash for them to spend on whatever they like. To really show them how much you care, why not chip in together for a romantic weekend for the expecting parents to claim as soon as time permits?