For many shall apply: fashion is what designers specify. Fashion moves with the times and constantly changing. Fashion is the process in which a sudden something like what is not yet and no longer like a morning yesterday.
All these are unsatisfactory answers!
The term fashion is French and means "Measured" or "Captured".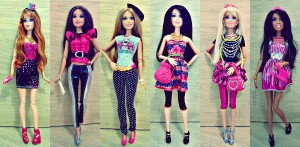 Fashion is an ideology, which is valid for a period of time and for a certain group of people. People buy, do, wear, or use certain things, yes even think for a limited period on a certain way. Because of social processes fashions are constantly changing and are replaced by new ones. Thinking and behavior change accordingly and ratings about themselves and the environment to be revised again and again. Every ten to twenty years will be made to certain topics-back and re-interpreted.
Fashion is explained by the combination of factors such as designers, editors, buyers, photographers, critics and trend researchers who maintain faith in the contemporary taste for fashion and presents it in fashion magazines, catalogs, on television or on catwalks.
Fashion in general:
We know fashions in architecture, in art and literature, in music, in film, television and theater. We know fashions in the media, in academy, fashions in business and even in social behavior. Currents such as in the 50s with petticoat and Rock n Roll, the late 60s look of the flower children, the mini skirt, punk and grunge are images of the time.
Developments in science, medicine and industry are controlled not only by large corporations. Global influences through networking modes also had a great impact.
Fashion in clothing:
Fashion in clothing is an art inspired, and tells stories. Designers have global influences from art, culture and current topics are introduced in their collections. It depends on the combination of parts to one another and the staging so that the result can be considered fashionable.
Clothing, however, is something necessary, that everyone needs to protect themselves.
Fashion is a medium of communication. Fashion reflected in the form of a garment resist social, intellectual and cultural trends. Not every style is fashion. Style has not necessarily anything to do with fashion; it is rather the mirror of one's personality. Style is often a very personal expression of individual lifestyle, a current mood or nourished by desires, dreams and visions.
Clothing is an everyday role playing game. It gives us the opportunity to show who we are, expressing our identity and opinion. Through clothing can express group membership and thus the attitude of the person is quickly and visually recognizable.
Fashion is the basic need for attention: attract attention, arouse interest, and build self confidence additionally to please others. Elements of new models are adopted quickly by groups that are open to new things, like to experiment, want to change something or have desire to provoke. If the fashion is becoming conventional, it is no longer interesting for the trendsetters. Due to their interest in new things they discover new fashions over and over again.
The current distribution of modes is characterized by mass consumption. Advertising and mass media also play an important role. It is increasingly difficult to identify a trend and to gain an overview. Hardly find the major fashion shows in cities such as Paris, Milan and New York instead, one finds even similar models in vertical trade and fashion chains.
If we see intellectually, fashion has no base but still it is a big industry and everybody somehow tries to follow it in one or the other way.