Picking the right outfit for a first date is a daunting task, for both men and women. The challenge lies not only in picking something to fit the occasion (you won't want to wear an evening dress to go bowling) but in finding something that you feel confident and comfortable in.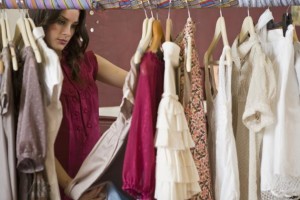 If you need some guidance, read on for some simple pointers:
Relax
First and foremost, chill out. Picking that first date outfit should be fun; leave plenty of time (days rather than hours) before your outing and you'll eliminate the mad panic to find something in your wardrobe you like. Spend time thinking about each element of your outfit in as a relaxed as manner possible, that way you're less likely to choose a stunning dress but hideous footwear.
Don't experiment now
When you're dressing for the first date, now is not the time to experiment with your wardrobe! Stay away from playing with new fits or trends that you're not really confident with. Stick with a look that you have felt sexy in before.
Be true to yourself
When you know that people will be judging you, it's easy to fall into the trap of acting (and dressing) like we think we should. Don't choose your outfit based on what you think they'll like; be true to yourself and go with something you really love. That way you'll be able to find out sooner rather than later if you're mismatched.
Comfort over style
A first date is stressful enough without the added drama of your strapless dress falling down or your new knickers that keep rising up! Always chose comfort over fashion on a first date. This doesn't mean you should ignore any sense of style, but forget wearing heels that look great but are painful. Remember that, yes, first impressions count, but these impressions are made on a mix of both looks and personality. You want to appear at your most confident.
Ask a friend
You can try and befriend your mirror for the evening, but let's face it you can't see yourself from every angle. If you want an honest opinion, call a friend or family member over to be the judge of how your first date outfit looks. If you're not able to ask a second opinion in the flesh, get your camera phone at the ready, there's no better time to use picture messaging!
Don't forget the venue
Don't forget to base your outfit choice on the activity and venue of your date. Trying too hard when you're just meeting for a quick coffee is as embarrassing as turning up to the Opera in jeans and a t-shirt. If there's an element of surprise to what you're doing on your date, ask if there's any particular dress code for the occasion.