Heading off for University is an exciting time, and by having achieved what you needed in your 'A' Levels, it might feel like the hard work is over – for a while at least. However, before you can immerse yourself in all that student life has to offer, you will need to sort out your accommodation. As the choices you make could impact on your experience of student life, it is worth taking the time to consider what options you have and get in while there is still time to have a choice.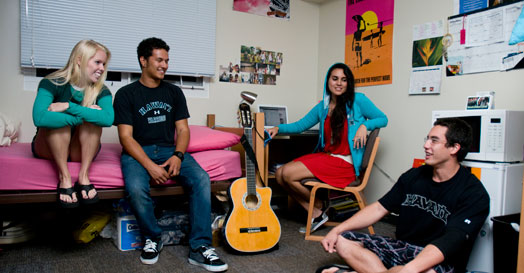 Get In Early
It is a good idea to plan your accommodation early so that you can make a choice that suits you, rather than have to take what is left if you leave it too late. There are lots of types of accommodation available. Some colleges and universities have halls of residence on or off campus but these might be restricted to specific year groups; this information will be made available to you by your college or university. Private lets are also a popular option. These can be individual rooms in family homes, rooms in shared houses, a house rented with a group of friends or purpose build student accommodation. Prices and amenities will vary greatly so there is a lot to consider about what you want or need from your accommodation.
Purpose Built
There is an increasing amount of purpose-built student accommodation available in major university cities. This type of accommodation is usually available in high-rise buildings so will look like normal blocks of flats. The accommodation within is tailored to student requirements so will consist of small furnished units or studio flats with communal cooking and social areas. There may sometimes be options for friends to share a studio but this does not necessarily mean you get two bedrooms so you may need to share sleeping space. Living in purpose-built student accommodation can be great for a sense of living in a real student community and will be a quick way to make new friends!
Making Your Choice
There will be lots to consider when deciding where to live; things such as location, proximity to your university, transport routes, local amenities or nightlife, proximity of other students and facilities in the accommodation itself. If you have a choice of accommodation options you will find that price might often be the deciding factor in where you end up moving to so make sure you add up all your costs before you sign your tenancy agreement. Don't just compare rent costs as some rent costs will be just that, while others might include bills, TV license and more. And if the accommodation is away from campus you will have travel costs to add to your monthly budget.
The cost of purpose-built student accommodation might at first appear to be more expensive but it will usually include extras such as insurance, internet access and utility bills – when you add these to some private rooms for let they could start to work out the same. Remember to claim your Council Tax exemption – forms should be available from your college or university.