When you are planning a wedding, there are so many different options to choose from. Do you go for the traditional white wedding in a country church, followed by a reception at a manor house nearby? Or, do you opt for something more modern, in a stylish venue which offers everything in-house? Whatever you choose, you must ensure that the venue and style of the wedding suit you and your groom's idea of the perfect wedding day.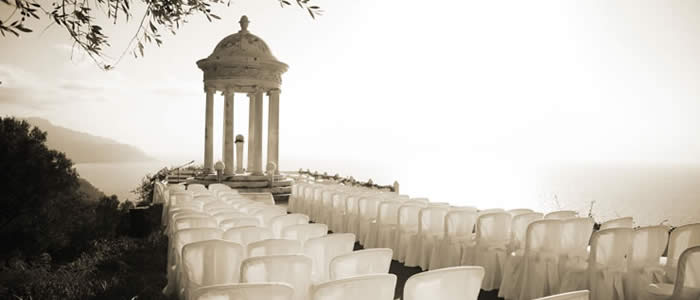 After months of deliberation and indecision, I finally gave up on the idea of a wedding at home. I had always wanted to marry outside and the weather in our country is just not reliable enough to do so! We decided instead to look at a wedding abroad. By choosing to marry in a hot country, we could have our dream wedding, whilst also providing our guests with a mini-holiday, which I thought was a lovely touch.
We came across the idea of marrying in Mallorca almost straight away. On a practical level, it made sense. Mallorca is only a couple of hours' flight away, for starters. Plus, many of our guests had previously travelled to the Spanish islands, so we knew that they would feel at ease with the food and culture. Famed for its beautiful beaches, rugged mountains and picturesque villages, as well as its nightlife, the island of Mallorca provides the perfect setting for a wedding abroad. Guests will enjoy swimming in the sea, visiting the historic towns, nights out and travelling high up into the mountains – there's something for everyone.
Getting married on this stunning island looks to be a truly magnificent experience, whether you are the bride, the groom, or a wedding guest. There is an array of lovely locations to choose from for your special day. You may wish to marry in the beautiful coastal port of Pollensa, for example. Or, the busy metropolitan capital of Palma might appeal if you are looking for a vibrant, modern setting. There are a number of other locations in coastal towns such as Alcudia, where the azure sea and the bright blue sky combine to create a romantic backdrop for the day. For striking scenery and amazing views, consider marrying anywhere on the island in the spring time, when the island is full of colourful wild flowers.
Now we have chosen our destination, we can carry on planning our wedding. Details such as my dress, the food and our photographer are next on my 'to do' list. I hope to find a photographer who can capture the beauty of the landscape and setting in the photographs, as this is a special part of the day. I would also like the photographer to take natural, relaxed shots of the wedding, so we can capture the enjoyment of our friends and families as they share this joyous occasion with us.